Blessed To Work With The Best.
"A master of visual artistry!"
"Krysta is a genius at turning ideas and putting them into a visual language that reflects and even surpasses the original concept. "
-Stephen Dinan, CEO, The Shift Network
–––––––––––––––––––––––––––––––––––––––––––––
"
Krysta is the best designer on the Internet.
I don't say that lightly."
"When I had the vision for the Copy Posse, I knew I needed support bringing it to life – because I didn't want to create just a website or launch just a product. I wanted to build a brand that would shake shit up and redefine an entire industry. While I'm not there yet, I'm on my way – and I know I wouldn't have had the impact I've had if it wasn't for the Copy Posse's visual branding. 
Krysta played a HUGE role in conceptualizing the Copy Posse aesthetic and has helped me design the Posseverse from the first pixel. 
Krysta's unique gift is extracting your vision, mission, personality and brand voice and translating it into exciting visuals that feel EXACTLY right. I mean – she somehow took "grunge 90's hip hop meets Beyoncè meets tigers" and turned it into a visual brand I'm insanely proud of. I'd recommend her to ANYONE who is looking to seriously make a splash online. "
-Alex Cattoni, CEO, The Copy Posse
–––––––––––––––––––––––––––––––––––––––––––––
"If you are ready for a transcendent uplift of your brand, there is no one in the world that can touch Krysta."
"We had a great experience working with Krysta on a brand refresh, site and app redesign.  
Krysta had a great deal of experience in our business niche, so our expectations were really high when we started the project.  Those expectations were blown out of the water by the stunning creative that Krysta brought to us. 
It was as if we were blind about who we were until we saw ourselves reflected in her vision for us.  
We are now so proud of our brand and our site we are thrilled any time we send someone to the site. "
-Michael-Shaun Conaway, Generative Futurist 
& Storyteller, Co-founder of Boldly
––––––––––––––––––––––––––––––––––––––
"I'm not sure where we'd be without Krysta. I'd recommend her more but don't want to give away our secret sauce.
"
"The best people are the people who can take little direction and perform well above your expectations. Krysta is one of those people. 
Her skills are unmatched in the industry and we are always happy with what she provides. She's not only super easy to work with. She has the best attitude and always hits deadlines."
- Jesse Eker,
T. Harv Eker International
–––––––––––––––––––––––––––––––––––––––––––––

"

Krysta is true master at what she does, and anyone lucky enough to work with you is just that... so lucky!"
"Krysta started working with Harv Eker International a few years ago, and I can confidently say that
the branding and online presence of our company stands out among any of our competitors.
From sales pages to workbooks to full on website rebranding of some of our biggest programs, Krysta has done it ALL, with grace and compassion while always hitting deadlines.
Working with Krysta has been nothing short of amazing and I can't recommend her enough to anyone looking to take their branding, design, and online or offline presence to the next level. Thank you Krysta for all you've done and continue to do for HEI!
"
- Jennifer Eker,
T. Harv Eker International
–––––––––––––––––––––––––––––––––––––––––––––
​​"

She understands your vision thoroughly and goes through lengths to achieve and even beat your standards

." 
"Krysta's excellence is mastered through her keen knowledge of design,  perfection, and high standards. I worked with her on my own projects, as well as having her for many of my high profile clients.
You are lucky to work with her. "
- Dr. Neeta Bhushan,
Author of Emotional Grit
–––––––––––––––––––––––––––––––––––––––––––––
"An Elite-Level Designer"​​​​​​
"Working with Krysta is an absolute pleasure from start to finish. 1) She takes the time to truly understand what you need. 2) She creates beautiful modern designs. 3) She's super responsive and collaborative in honing the final design. 
She delivers high-quality results and the process of working with her is effortless and enjoyable;
she's an elite-level designer
. I'm delighted that I've connected with Krysta and I intend to work with her again and again in the years to come."
- Mike Kennedy,
CEO of Freedom Media
–––––––––––––––––––––––––––––––––––––––––––––
​​​​​​

"Krysta is one of my favourite creatives to work with – her design styles are sleek, sexy, eye-catching and clean, and she is always on time and professional. I've worked with her on several projects and

she's made all my clients very happy

. Here's to more projects together!"
- Veena Sidhu,
Dreamcatcher Enterprise / Mindvalley
–––––––––––––––––––––––––––––––––––––––––––––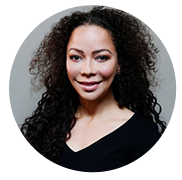 ​​​​​"I

t's hard to describe Magic, and that's what Krysta does"
"

The number of times I've received something back from Krysta and said "Yes!" is a lot.
I'm fairly detailed in my briefs, but
it's hard to describe Magic, and that's what Krysta does.
She takes what you want, and makes it better, reading your mind for all the things you didn't say and
giving you something back so much better it can shock you
.
I'm so grateful that we met and we've worked together solidly now for 2+ years.
She's fast too.
Hire her right now
. "
- Nichol Brandford,
Executive Director & Co-Founder, Transformative Tech Lab / Lecturer at Stanford University / CEO, Willow Group
–––––––––––––––––––––––––––––––––––––––––––––
"
Super professional + creative - confusion = Krysta F!
She's the real deal and made our lives much easier as a company
.

"
-Preston Smiles,
Speaker, Author, Messenger of Love
–––––––––––––––––––––––––––––––––––––––––––––
​​​​​​​